"the Interwebs" is a phrase I often hear used to answer questions about how someone knows about something or where they saw something, etc. I prefer "the websites," tho it's a losing battle. I like imagining one of my grandmothers asking me, "Did you find anything nice on the websites today, dear?" Whatever they're called, it's fun stumbling on quirky, funky ones that I never would have dreamt existed.

One of my favorites that I've recently discovered is the website of the

Cloud Appreciation Society

. They've got a zany manifesto and a gallery of extraordinary pictures (complete with clouds of the month!). They also have info on clouds in literature and the arts. Fun and learning for days.

If anyone reading has the urge to share a favorite quirky website here, please do. Things will be getting darker on this site as I express some of my frustrations with our outlandish election, so I wanted to kick things off with something light. And I'd love to have more wacky stuff to distract me.

Although I'm not good at taking pictures of clouds I'll end with a recent attempt while in a certain Nevadan desert:
Powered by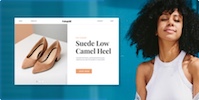 Create your own unique website with customizable templates.