My last post argued that Trump's latest democracy-undermining and violence-fomenting rhetoric constitutes an emergency level situation that gives us all decisive reason to vote for the candidate that has the best chance of defeating him. This post will give a more positive argument for Clinton by way of urging that science deserves to matter more to our consideration of candidates. And I'll get there via an appreciation of those conservatives who have consistently and courageously stood against Trump. Bare with me.

This election has given me cause to wonder whether I would recognize a Trump-like demagogue among the Democrats and respond appropriately. I hope I would automatically vote for a John McCain-type whom I profoundly disagree with in order to defeat a lefty-Trump, and I resolve to should the need arise. But I haven't faced that test yet, so I admire those who have and who have consistently recognized the charlatan in Trump from the get go. While I strongly disagree with some of their politics, I applaud their character and courage. Among federal legislators, Senator Ben Sasse of Nebraska particularly comes to mind. As a brand new Senator, he put his cowardly elders in the Senate to shame by correctly calling out Trump's threat to the First Amendment (among so much else) from the start, and never wavered when the same cowards attempted to bully him.

Although I haven't been religious for years, I come from Mormon culture, and it is a point of pride for me that it has been so anti-Trump. Mitt Romney stated the obvious ("a fraud, a phony") early on, Trump was destroyed in the Utah primary, and Utah representatives led the way in the latest Republican denouncements and defections from Trump (also putting Orrin Hatch's cowardice on display, by the way). I'm also pleased that people are noticing the Mormon exposure of

Evangelical hypocrisy

.

There are few, if any, take-downs of Trump and his Republican lackeys as delicious and cathartic as those coming from conservative writers

George Will

,

David French

, and

Jonah Goldberg

. I know that they have received a lot of flak from the right, and I admire their consistent stand. Recently, I came across an

interesting interview

Goldberg did with a journalist from Slate who wondered why he couldn't bring himself to support Clinton. Goldberg, who has devoted so much energy over the years to critiquing Clinton, wouldn't really offer a full-throated reason why

others

shouldn't vote for Clinton at this point, but just insisted that he personally couldn't. I get it. Still, for those who haven't staked their careers on bringing down the likes of Clinton, I've been thinking of reasons that should tip the scales in her favor in order to convince people who have the power to help ensure a Trump defeat (good luck with that, Enoch).

And that brings me to science. In general, you can't simply arrive at the best policy positions by reading the latest issue of

Science

. But failing to promote scientific research and using the best available research relevant to any particular policy or decision is like insisting on operating heavy machinery in the dark. More: robust promotion, appreciation, and use of science is a sine qua non for a modern rational democracy. One of the most important reasons why comes from recent discoveries of science itself. Humans are prone to irrational tendencies and biases of very specific kinds (e.g., not so bad at

some

basic deductive reasoning;

very

bad at statistical reasoning). These tendencies no doubt infect public political discourse--our attempts to reason with each other about how to best govern ourselves. Scientific educations and the promotion of norms of respect and admiration for scientific reasoning are our best hope for effectively targeting these tendencies in public discourse. And for helping people be better critical thinkers more generally.

One of the hallmarks of science is the demand for public, intersubjective standards of verification. An example of this is the demand for reproducibility of results--scientists are expected to make their methods explicit, transparent, and public so that others can check and see if they can get the same results via the same methods. If others can't reproduce originally reported results, the acceptance of those original results is undermined. These practices can foster virtues transferrable to the political realm. For instance, the more a candidate promotes the use of science in informing his or her policies and decisions, the more that candidate binds him or herself to the highest public standards and checks on them.

Science also brings to our attention potentially disastrous problems that we and our political representatives would otherwise be in the dark about: pollution, agricultural sustainability, biodiversity, anti-biotic resistance, global climate change, the effects of advances in artificial intelligence, and so on (see this

great book

by my friend

Phil Torres

for more). For all these reasons, and more, candidates who are most knowledgeable about science, and supportive of its role in public discourse and policy decisions, automatically deserve a hefty deposit on the positives side of the ledger. Candidates who are least knowledgeable and supportive deserve a similarly large injection into the negatives side of the ledger. And when all other factors leave it murky in one's mind which candidate deserves their vote, or whether one of them deserves their vote at all, a clear difference in this category deserves to be treated as a decisive factor.

Fortunately, a group of scientific organizations constructed a list of science-related questions for the candidates, and

Scientific American published each candidate's answers

(from Trump, Clinton, Stein, Johnson). They also published grades for each answer. While I have some problems with some of the questions, and want to know more about their criteria for grading the answers, I think the magazine's judgments give an accurate enough assessment. None of our four major presidential candidates get a score as high as we should expect of them. Clinton comes closest by far, however, and Trump may as well have just written in that he is an anti-scientific ignoramus (surprise, surprise). The degree to which Clinton beats Stein and Johnson should also count as a major advantage over each. Overall, then, the fact that Clinton is the surest bet to beat the anti-scientific Trump combined with the fact that she is by far the best candidate on scientific issues gives us all excellent reason to vote for her.
Powered by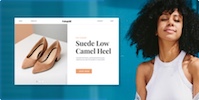 Create your own unique website with customizable templates.