This post (and maybe a few to come) is primarily aimed at friends, family, and acquaintances who lean either right or far left (where I usually hang), already agree that Trump doesn't deserve a vote, but also can't (yet??) bring themselves to vote for Clinton. As well as any who also have such people in their lives.

The last few days have brought another presidency disqualifying reveal about Trump. He has shown how he will react to (his own) emergency conditions: Trump will burn it all down, even if it doesn't appreciably increase the chances of saving himself. If he goes down, everyone does. He is even incapable of listening to his own advisory team, who have all the experience for dealing with emergency campaign situations that he does not. Against their advice to turn to the issues on which he has the best hope for making up lost ground, Trump has chosen to turn his own predatory behavior into a global conspiracy against him, one that justifies undermining the legitimacy of our democratic process. As such, he has turned it into an emergency situation for all of us. How should we respond?

Rationally, but with urgency. The rational thing to do is defeat him on election day by voting for the candidate most likely to defeat him (Clinton), and by as wide a margin as possible, in order to send a message that this kind of behavior is intolerable in civil society. In the mean time, we should call on our leaders, especially Republican ones, to condemn his conspiracy-mongering and democracy-threatening language in the strongest possible terms. They should also be called on to condemn any plans for voter intimidation on election day. For those who wonder, I say this as someone who has never been a member of one of the two major national parties; as someone who has voted for independent/non-mainstream party candidates more often than not; as someone who has never been a big fan of Clinton; and as someone who also deplores the fact that both Democrats and Republicans have falsely cried wolf on the emergency status of most of the presidential elections since WWII.

There is little I detest more in politics than fear-mongering, and I don't wish to reproduce it here. It is possible, though, to rationally assess, diagnose, and respond to emergency conditions, i.e., situations where it becomes imperative to temporarily set aside issues on which we fiercely disagree in order to save that which we can all agree is of fundamental importance.

While we'll differ widely over the specifics, most will agree that there are serious problems in our nation and that they aren't being properly prioritized or effectively addressed by our federal government. More importantly, we do, or should, agree that whatever progress we want via governmental means must come about through the democratic processes we have, such as they are now. This includes hope for those processes becoming more genuinely democratic. We cannot hope for democratic progress when democratic process is threatened. If there is one candidate, and one alone, who overtly threatens that process, especially by fomenting potential physical intimidation and violence to do so, we have decisive reason to use our votes to maximize the chances of that candidate's defeat. Voting for Clinton is the vote that does this.

If you haven't heard yet, Trump's tweets and speeches are increasingly full of hysterical invective claiming that there is a

global cabal

conspiring to defeat both his candidacy and "movement". Among those included in this cabal, besides any media that aren't sufficiently alt-right, are "international banks", a well-known piece of

anti-semitic propaganda

descending to us from at least the beginnings of last Century. Accordingly, the election is "rigged" (a term he employs for any public process that doesn't give the results he thinks it should), and he is calling on his followers to help "guard" against the election being "stolen" from them. With dilligent obedience, his followers are telling reporters that they plan on

intimidating voters

, including

a sitting law enforcement officer who spoke for Trump at the Republican convention calling for mob violence.

Let that sink in.

Assertions of global conspiracies to "rig" the US presidential election are serious ones that require correspondingly serious evidence. Does Trump, or his team, make any sincere attempt to present such evidence (let alone really have it)? NO. And there is none. (Although, there is evidence that Russia is attempting to influence the election, evidence that has been

presented to Trump

in security briefings, and which he ignored/denied in the last debate.) Using his current platform to make such irresponsible and baseless assertions is the kind of brazen abuse of power that should immediately disqualify Trump from serious consideration for highest office.

Now Trump himself has not explicitly called for violence. But this doesn't stop his followers from interpreting him that way. The fact that Trump himself has not and will not make any attempt to "correct" his followers' interpretations (unless there is enough of the right kind of public outrage to induce him to finally give one of his trademark dishonestly vague, hint-hint/wink-wink-style concessions) shows that physical intimidation against voters is

precisely

what Trump intends to communicate. The encouragement of violence and intimidation in our electoral process is truly beyond the pale; and, whatever else one may think of Clinton, it decisively distinguishes her from Trump. She has done nothing even remotely close to this. In the next few paragraphs I'll respond to some worries that some may have about this argument.

Worry #1

:

The media really has been more focused on Trump's weaknesses than Clinton's

This is true, but is not plausibly explained by a coordinated global conspiracy against Trump. Look, I think it is true that some parts of the mainstream media have leaned left for decades. I also think that parts of the media have especially turned up the heat on Trump of late. Many are covering his sexual predation more than the Clinton Wikileaks dump, for instance. In many ways, though, this is an appropriate response:

Trump is a sexual predator

and that deserves intense coverage. The Wikileaks dump reveals that.....Clinton is largely what many, supporters and opponents alike, believed: a wheelin', dealin' politician. The door to the sausage factory has been opened and we find there what the reasonable, though not what the hysterical, expected. We would find similar in most national politicians were their private correspondence released. Another partial explanation for the disparity is that Clinton has been one of the most scrutinized politicians for over 20 years now and her scandals have been aired ad nauseum. Trump avoided some of the most intense scrutiny until now because he hasn't been a politician and because the Republican party itself didn't do its due diligence in vetting him last year. Yet another partial explanation is that you reap what you sew: Trump's specialty, and driving motivation, has always been as much media attention as possible. He fought for it and continues to get it. Finally, multiple media outlets independently arriving at similar conclusions--that Trump is uniquely awful and the country deserves to hear about it--does not require an appeal to secret global collusion. Many prominent Republicans and conservative media outlets themselves have come to that conclusion.

While on the topic, though, Trump's alt-right brand of conspiracy-mongering media is another decisive distinguisher between him and Clinton, and a reason to maximize the likelihood of his defeat (BTW, would any of you be surprised if Trump uses his "concession" speech to announce the launch of his new media empire to "deliver the truth" to the American people about how the election was stolen from him?). The Drudge/Breitbart underbelly of right-wing (principled

conservatism

does not deserve to be associated with this bile) media would be significantly legitimized and empowered by a Trump victory, would pull Fox News further in their direction (no, my liberal friends, I don't think that much of its programming deserves to be classed in with the alt-right just yet), and would help normalize the kind of rhetoric that I've been arguing is a unique threat to our democracy. This would be a disaster to the role of reasoned discourse, such as there is, in the public sphere. While I would admit that liberal biases in the media are probably partially responsible for the rise of the alt-right, those biases don't come anywhere close to the utter disregard for evidence, reason, and truth that the alt-right media displays. There are constructive ways of giving principled conservatism more fair coverage in the media, that liberals should acknowledge and participate in. Empowering the alt-right with a Trump presidency would do more to set back that endeavor than a Clinton presidency would.

Worry #2: Clinton undermines democracy too

Does behind-the-scenes corruption contribute to the erosion of our democratic ideals and institutions? Yes. Has Clinton participated in that? Yes. More than most politicians? I'm not convinced, and certainly not more than many heroes of the right, but I'll grant that there is room for reasonable disagreement on the question. Does any of it come close to fomenting voter intimidation or political violence if things don't go your way? Not a chance. The fact is that the corrupt politicians will always be with us, at least for the foreseeable future, and we've survived much worse than Clinton. But we have yet to risk giving power to a demagogue who resorted to unprecedented overt threats to our democratic processes when his own behaviors began to sink his campaign. I don't want to take such a risk, and voting for Clinton is the course of action that most effectively minimizes that risk.

Worry #3: Haven't we heard that someone posed a "unique threat" before?

Yes, and as I indicated above, I regret that many have cried wolf so much in the past. Perhaps especially liberals. Actually, I think that the right is doing so now with Clinton. But no number of false cries can prevent a genuine wolf from actually appearing one day. And if Trump's current howls aren't enough to convince that that day has come, I don't know what could be.

If you made it through my rant, I encourage you to visit a much more

convincing voice

on this topic. If you still can't bring yourself to vote Clinton, I still encourage you to contact your representatives to call for a condemnation of Trump's conspiracy-mongering and election-delegitimizing rhetoric.
Powered by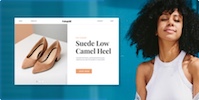 Create your own unique website with customizable templates.